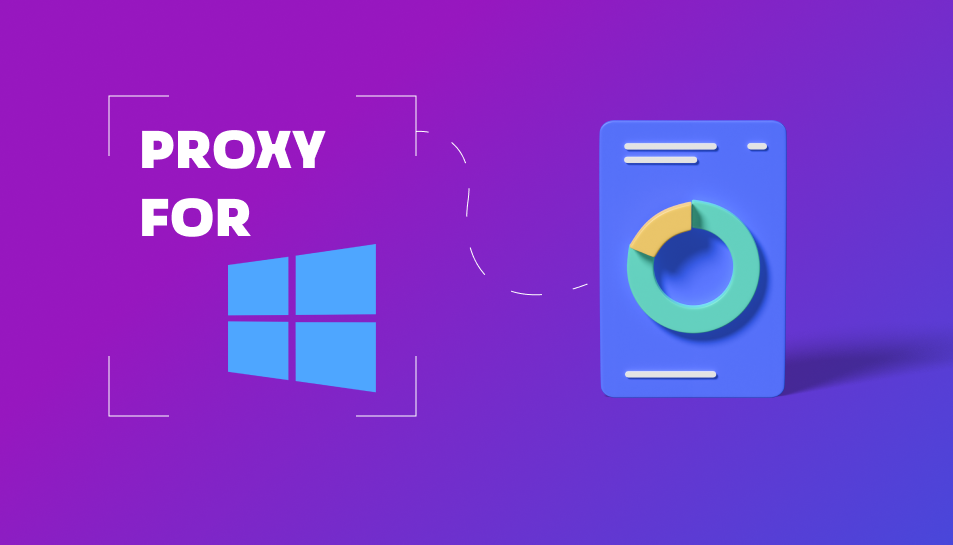 Setting up your proxy server in Windows 10 is quite different from Windows 7, with whom most users have become familiarized over the years. However, the differences are easy to remember. In this tutorial, we will make sure that you can set up your own proxy server without difficulties.
A proxy server represents a medium between your personal computer and the internet. As you may already know, a proxy connection is making requests to a certain website that you want to access without revealing your IP address. So when accessing a site, instead of your ISP ( Internet Service Provider), your proxy address will make the request for the said site for you and allow you to access it without your true IP address.
Proxy addresses can be used by companies or schools in order to limit certain internet privileges such as media websites or other websites that are irrelevant for them and for their users. Another reason for why institutes such as companies or school libraries would do this is to reduce bandwidth usage, considering that all employees or students would need to save websites in their search. Last but not least, this method improves security and privacy significantly.
It is hardly surprising that many people choose to take extra measures in order to secure their privacy, in a world where online navigation is heavily intruded upon, and our personal data, our virtual identity is no longer a secret.
Anyway, without much further ado, let's see how we can set up a proxy server in Windows 10!
Windows 10 proxy settings
On your desktop, click Start, Settings, then Network and Internet. A new panel will appear, and you will see the option Proxy at the bottom, like so: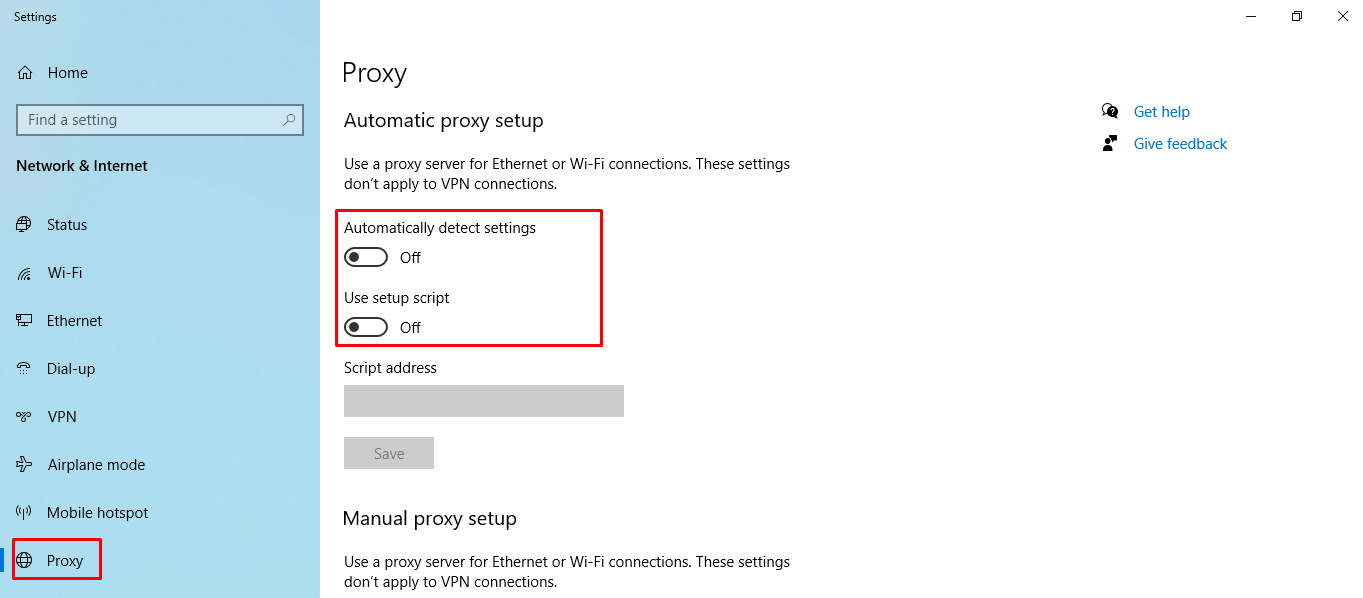 In this section, you will find every section needed in order to set up your proxy connection. By default, everything here should be turned off, and it is possible that in the event in which something is already turned on, your system already has a proxy connection established.
Alternatively, if you are old school, you can do this via the control panel as well. Navigate to the control panel then select Internet Options, then click the Connections tab followed by clicking the LAN settings button displayed on the down right side of the page. From this point forward, the settings will be the same as if you would have taken the other route.
Setting up automatic proxy configuration using a script
It should be noted that Windows is set to automatically detect proxy settings, yet this is not always the case, especially when talking about company PCs. Here are the steps needed to go through in order to set up an automatic proxy configuration:
Open Settings
Navigate to Network and Internet
Click on Proxy, which will prompt a list of proxy settings
In the Automatic Proxy Setup section, set the Use Setup Script switch to On.
Enter the script address without altering it, after which hit save
Close the settings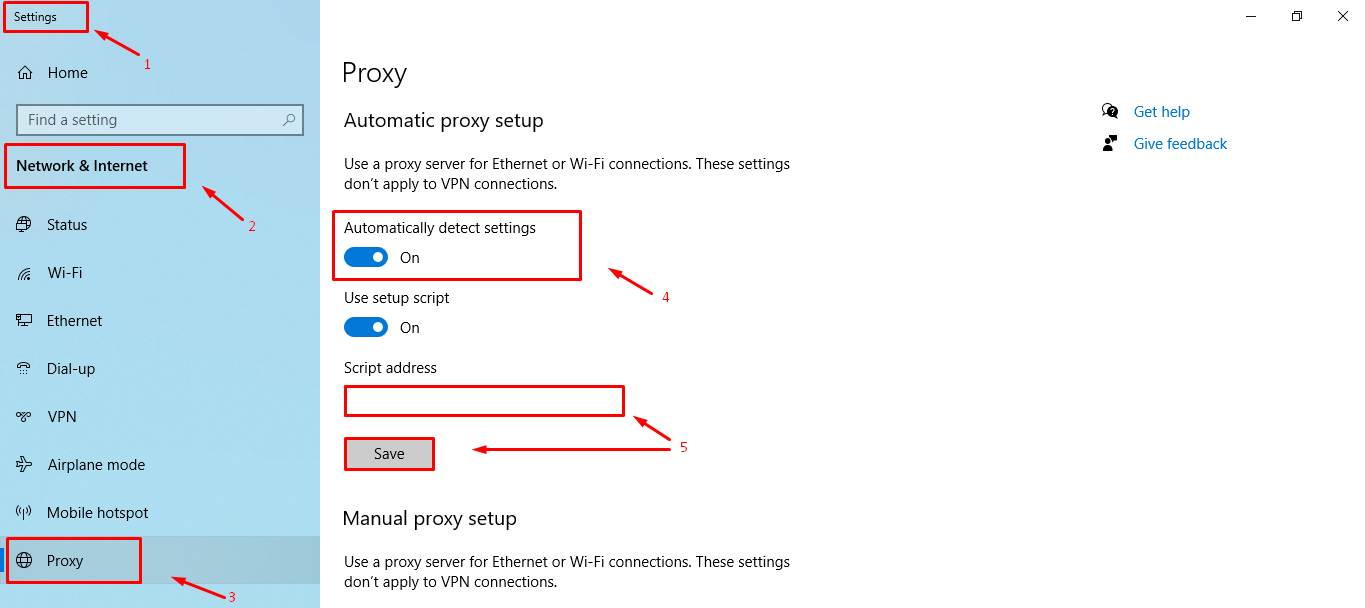 Now that we've discussed how to set up an automatic proxy configuration, let's discuss how to set up a manual proxy.
Setting up a manual proxy
In order to manually set up a proxy connection on Windows 10, you will have to navigate once again to Settings > Network & Internet > Proxy. It should be noted that these settings apply when you're connected to Ethernet or Wi-FI, yet they cannot be used when connected to a VPN. The following steps should clear any confusion regarding how to properly set up a manual connection:
Once again, open settings
Navigate to Network and Internet
Click on Proxy, which will prompt a list of proxy settings
This time select the Manual proxy setup connection and turn on Use a proxy server switch
In the Address field, type the IP address.
In the Port field, type the port.
Finally, select Save and then close the Settings window.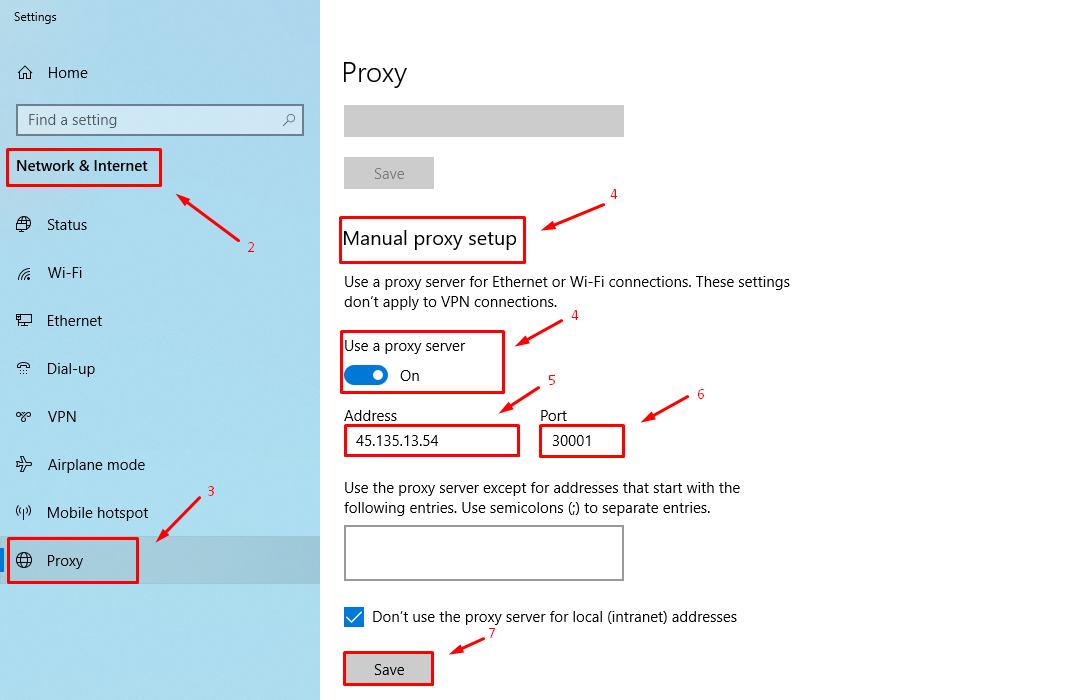 After the proxy has been configured, all the internet traffic will automatically go through it without a trace. However, there is a possibility to create a list of certain addresses that will not use the proxy. They can be frequently utilized addresses that you are certain of, and wish to allow your regular ISP to request access to them on your behalf.
By utilizing the text box located in the "Manual proxy setup" section, you can specify these addresses using a semicolon (;) to separate each entry. Furthermore, if there are more of these address from the same domain, you can use an asterisk for further distinction.
You should also know that you can bypass using a proxy if you feel uncomfortable using one by simply checking the 'Don't use the proxy server for local (intranet) addresses' option. So unless it is mandatory and you are obligated by your school or company to use a proxy, there are ways to avoid it altogether.
In order to change proxy settings, you must enter the aforementioned location and change settings accordingly to your needs.
Now that you understand how to successfully set up a proxy connection, we will discuss how to disable the proxy connection, should they need arise. This scenario can unfold due to malware picked up along the way. It can happen while you are trying to safely remove malware threats from your operating system, by redirecting you to an unsavory website which contains viruses. This malicious software can modify Windows Internet Explorer proxy settings which can lead to changes that prevent you from disabling your established proxy settings. By following these steps, you should be more than able to disable them safely:
As before, click on Start, Settings, then navigate to Network and Internet, then select proxy.
From there, toggle the automatically detect settings option to ON.
Toggle the 'Use a proxy server' option to OFF.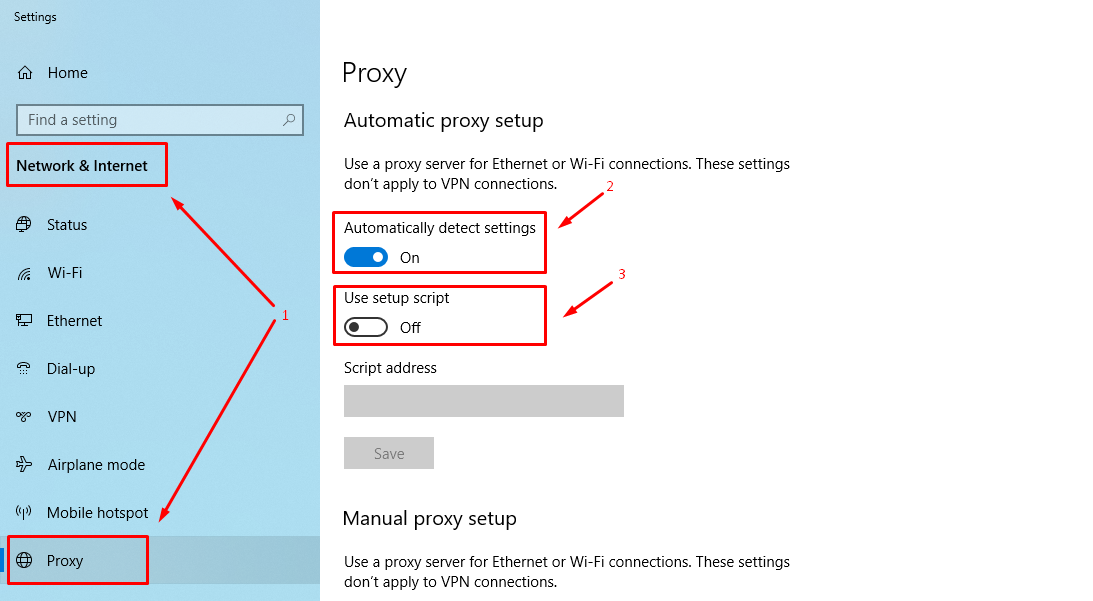 Alternately, open the registry by typing regedit in the search bar, or with Win+R, then typing regedit.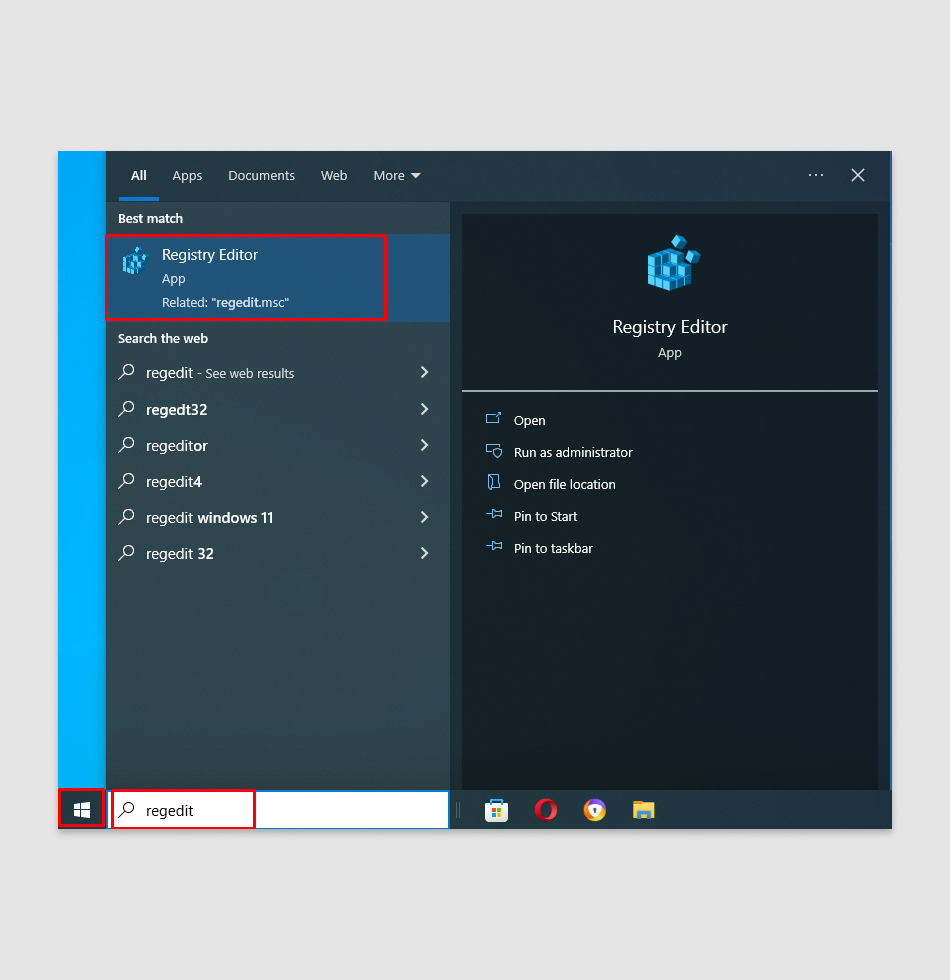 Afterward, navigate to HKEY_LOCAL_MACHINE\Software\Policies\Microsoft\Windows\
CurrentVersion\Internet Settings and Double click ProxySettingsPerUser then Change Value to 1.
And you're all done! This is pretty much everything that you should do if you're running Windows 10 and want to set up a proxy server.
Hopefully, this guide was useful and you have learned enough from it to be able to set up your proxy settings of choices in the future with no trouble, as well as be able to disable them whenever you need to. However, if you face any difficulty with any of the steps, feel free to contact us, by email or using the comments section below.